Ancaster Group's Hyundai Bluewater store has been transformed into the Korean car maker's first 'Electrified' store as its accelerates its launch of electric vehicles (EV).
The Ioniq 5 and Kona Electric will now take centre stage at the car retail facility, which will aim to educate potential EV owners on the benefits on making the switch to zero emissions motoring via its 'Electrified Wall', 'Powertrain Wall' and 'Connectivity Wall' research tools.
Hyundai Motor UK managing director, Ashley Andrew, said: "Transforming the way people interact with our cars has always been just as important to us as transforming the cars themselves.
"Now, as we continue to accelerate our launch of market-leading electrified vehicles, it's important that we have the right environment for people that might be unfamiliar with electric cars, to discover the benefits in a friendly and informative way."
Visitors to Hyundai Bluewater can explore the range and take a test drive.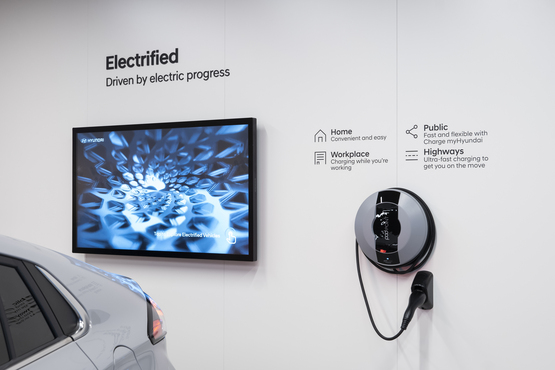 A dedicated Experience Centre is offered in the Bluewater Car Park and will soon be located next to a new line-up of charging points, which are due to be installed.
Recent analysis carried out by Hyundai franchisee Peter Vardy Group suggested that Hyundai is expected to have the market's largest range of electric vehicle (EVs) by 2025.
The brand plans to add 20 new EV models to its range, totalling to an offering of 23 all-electric cars to customers, by 2025.
Among the most anticipated is the next model in the Ioniq range, the Ioniq 6.
The premium saloon is expected to closely mirror the styling of the recent Prophecy concept car.
Hyundai's Bluewater store first opened in the Kent shopping destination in 2014, in partnership with Motorline Group.
In August 2019, however, the retail group ended its involvement, with former group chairman, Glen Obee, stating that it does "not believe the mid- to long-term viability" of the shopping centre new car sales concept.
A month later Ancaster took on the operation. At the time, Ancaster Group managing director, Stephen Wood, said: "We have a long-term business plan that features Hyundai as a key contributor to our ongoing growth.
"Our strategy for the future relies on greater brand and product awareness with new customers across a greater portion of the South East, so the Bluewater site fits perfectly with our plans."