Navigation and safety technology already freely accessed by motorists emerged as the services that the majority were most willing to pay for in a connected car study conducted by YouGov.
As car manufacturers align their plans for agency model retail agreements with an increased service offering – often through connected car technology – YouGov asked over 7,500 motorists across five European countries – France, Germany, Italy, Spain and the UK – what in-car services they would be willing to pay for.
Remarkably, the top ranked services that emerged top of the 'Connected Vehicle Services Study', conducted between February 11 and February 27 this year, were safety technologies now offered as standard on new cars under regulations imposed by the Euro NCAP crash tests and sat-nav delivered for free by carmakers and smartphone providers.
In the UK, the top five services that motorists would pay for, according to the responses of YouGov survey participants, were: Journey Navigation; Insurance; Driving assistance; Petrol filling / electric charge payment; and Health & Safety warnings.
Car manufacturing giant Stellantis plans to accelerate its turnover from software-enabled services and subscriptions to €4bn (£3.4bn) in 2026 and €20bn (£17bn) in 2030 as its transitions to a new role as a "sustainable mobility tech company".
BMW and Mercedes-Benz are among a number of brands which have been offering additional vehicle functionality and services which can be paid for and activated over-the-air for some time.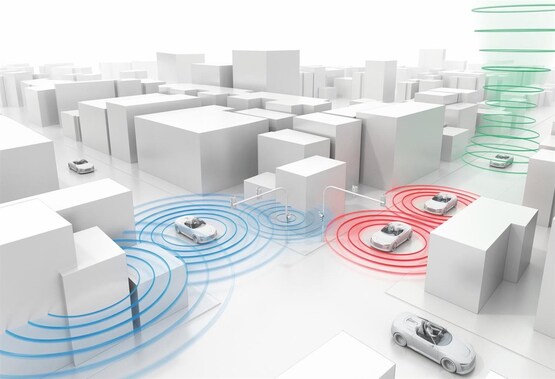 AM heard that franchised car dealers could be left to explain their OEM partners' 'surveillance capitalism' to customers after teaming-up with consumer car buying website Parkers to survey car buyers' attitudes to connecetd car technology last year.
Suzanna Mitrovich, YouGov's global sector head for automotive and mobility, sought to highlight some of the issues that OEMs need to address, and car retailers may need to discuss with customers as paid-for connected services become more prevalent in the market.
"With connected data in the vehicles, consumers are likely to ask questions about data safety, data storage, data usage etc," she said.
"Consumers are, likely, to expect some of the connected services to be for free (like warning sign that tires need air). And then some consumers would start considering what else can I do with my connected data in the car, and what would I be willing to pay extra for?
"In order to generate the meaningful revenue from the connected services for the automotive sector, there must be mass consumer adoption of the paid for connected car services.
"This study examines what consumers would be willing to pay for in terms of vehicle connected services."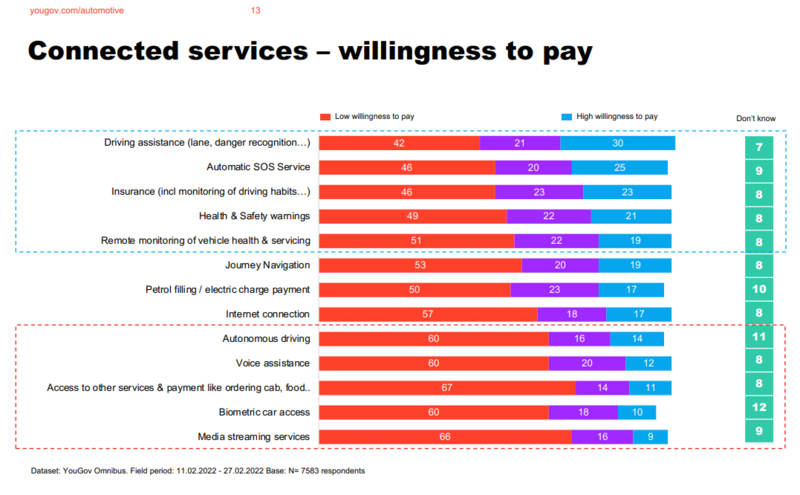 Autonomous driving was among the in-car functionality that respondents to the YouGov survey were least likely to pay for, with 60% of respondents expressing a low willingness to pay.
Access to media streaming services and biometric car access were the lowest ranked, however, with 66% expressing a low willingness to pay for the former and 67% the latter.
Media streaming appealed slightly more to younger respondents to the survey, with 17% of 25 to 34-year-olds willing to pay.
In the youngest, 18 to 24-year-old age category, 21% of respondents expressed a willingness to pay for the ability to order and pay for services including a taxi or food from their car.