Constellation Automotive Group's cinch online used car retail platform has followed rival cazoo into Premier League football club sponsorship with a deal to become Tottenham Hotspur's first shirt sleeve sponsor.
Cazoo secured title sponsorship deals with Everton FC and Aston Villa in the second half of 2020, later securing sponsorship of cricket's The Hundred tournament and the Rugby League World Cup 2021.
But a battle to secure marketing supremacy has seen cinch combine a cross-platform advertising campaign with TV presenter Rylan Clark-Neal with its own sponsorship of Northampton Saints rugby team and the Lawn Tennis Association's (LTA) Queen's Club Championships.
Cinch's high-profile marketing push follows its re-launch as a customer facing online car retail operation in October, over a year after it was initially conceived as an advertising portal to rival Auto Trader and Car Gurus.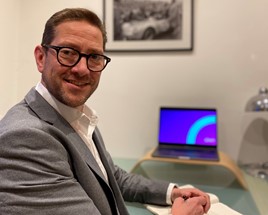 Explaining the need to leverage the profile of the business, which sells dealer-owned stock bought via the BCA Retail Ready stock acquisition solution, cinch retail director Jason Cranswick told AM: "How you drive customers to that online inventory is critically important. The cost of doing that is equally as challenging as building a consumer platform.
"I've been really pleased with the cinch television adverts with Rylan (TV host Rylan Clark-Neal). They've resonated with people and that benefits all our dealer partners.
"If this is to prove to be viable to the partners then it's something that we simply have to promote.
Cinch's new sponsorship deal with Tottenham Hotspur will see the platform become the club's first official sleeve partner.
The cinch logo will be seen on the sleeve of both the men's and women's teams for all first team matches starting with this Sunday's round of games (January 10).
Tottenham Hotspur Women will be in action first in the FA Women's Super League against Birmingham City (kick off 2pm), while the men's team will face Marine in the FA Cup Third Round (kick-off 5pm) later in the afternoon.
Highlighting the profile association with the club could bring, cinch said that Tottenham Hotspur has a fan base of more than 460 million worldwide, including 278 official Supporters' Clubs.
Avril Palmer-Baunack, chairman of Constellation Automotive Group, the new name of recently re-branded BCA Marketplace, said: "We're delighted to have agreed this fantastic multi-year partnership with Tottenham Hotspur, which will support cinch in its journey to become the brand of choice when it comes to buying a used car.
"We're all about putting the customer first and taking the faff out of car-buying, and we're looking forward to getting to know the loyal Spurs fans over the coming years."
Nick Hoyle, head of partnership development at Tottenham Hotspur, said: "We are excited to welcome cinch to our family of brand partners as our first Official Sleeve Partner.
"Cinch is such an innovative brand and their customer first approach is well aligned with our own commitment of delivering an unrivalled experience for our fans.
"We look forward to working with cinch and introducing their brand to our supporters."